Beyoncé Knowles-Carter is an intentional enigma. She rarely does interviews, uses social media, or provides a personal opinion outside of her art. While speculative journalism will sometimes provide us with hints of possible Beyoncé truths, nearly everything reported about the singer goes (and remains) unconfirmed. In other words, Beyoncé is whatever imaginative projection we want to bestow upon her at any given moment. And she obviously prefers things this way.
I'll admit, it's a brilliant marketing scheme. During this year's 50th Super Bowl Halftime Show, Mrs. Carter quite literally hijacked Coldplay's headlining spot to debut a live performance of her new single "Formation" in clothing that mimicked the style of the Black Panther Party that existed from 1966-1982. The music video for the single even featured imagery that supported today's Black Lives Matter movement while ridiculing law enforcement. This naturally incited tireless headlines questioning Beyoncé's intent, to which she remained publicly reticent.
Now, in the present, we're getting similar treatment with Beyoncé's latest surprise audio/visual album entitled Lemonade. Originally presented as an HBO Special, the 58 minute long spectacle premiered on the subscriber-based cable network this past Sunday. It was immediately proceeded by strategic (and exclusive) availability on the Tidal music-streaming service, owned by Knowles-Carter's husband Jay Z. The clip featured a slew of different racially charged themes that included celebration of heritage, female empowerment, adultery, family values, appropriated vandalism, toleration of infidelity, and incantation.
While most media outlets praised Lemonade for being outside of Beyoncé's typical content style, further perpetuating Mrs. Carter's deity-like status with the media, I found myself personally not buying into her meticulously contrived production. Since it obviously wasn't marketed towards me, I didn't have to. But what particularly bothered me about the public reception of Lemonade was the way a certain group of Beyoncé fans heralded it. As HBO's airing of Lemonade ensued, the Beyhive (a catchy nickname for Knowles-Carter's fanbase) came out in droves, mostly praising the singer's work, while some simultaneously demeaned anyone who celebrated (or negated) it — unless they were black.
Johnetta Elzie, a figurehead for the Black Lives Matter movement, used her verified twitter account to equate one Beyoncé fan's experience of Lemonade to delusion. Coming to the fan's defense, I was also reduced to living in an "imaginary world." On Twitter, Beyoncé follows the account of Black Lives Matter figurehead Deray Mckesson, but not Elzie.
After Johnetta's response and instant blocking of access to her account, my Twitter mentions stockpiled with claims from passionate Beyoncé fans that I "don't know what I'm talking about," that "white people always want some shit," further accusing me of being "fragile," "white," all while reaffirming that Lemonade is "not for everyone." While I am open minded enough to understand the basis of their perspective, I will never agree with it. If Beyoncé made Lemonade solely for black women as some of her fans claim, why did she choose to premiere it on a nationally broadcasted cable television network?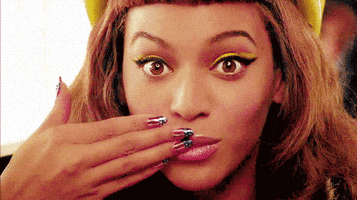 The truth is, we'll never know because Beyoncé will never provide us with any more perspective outside of the release of her artwork itself. While some of her fans continue to pretentiously steer the intentions of Lemonade in whichever direction it particularly suits them, Beyoncé (again) gets to bask in attention she doesn't hold any personal accountability for. She gets to let her artwork do the talking, even though none of the claims from the work solidify any sort of confirmed truth as to who Beyonce actually is behind closed doors. All Lemonade does is continue to leave interpretation of the singer's image at the will of her admirers or naysayers. And because of her unwillingness to go further than the art to clarify, I feel Lemonade might inadvertently alienate some fans. Especially when certain Beyhive like to sting them for trying to join in on the excitement of a new release.
Being multiracial and predominately raised by a black woman, I was excited to see Lemonade celebrate the type of women I personally grew up admiring — even if I wasn't a fan of the overall optical or sonic production of the visual-album in its entirety. I love how the reaction to Lemonade is deservedly instilling a sense of pride in women of color, opposing the oppressive nature some often encounter in their day to day lives. What I don't love is the unwarranted entitlement of certain fans who want to hijack Beyoncé's publicly shared art as something that is specifically for them, in a way that challenges what should be a global celebration of the awesomeness that is black women. Not only is this taut behavior counterproductive to Beyoncé's presumed intent of Lemonade, but it also perpetuates racial division. And the sad thing is that Beyoncé has nothing to do with any of this personally. She just made a video and the world reacted to it. Cue the reverse-colonization.
I'm not ignorant and neither are Beyoncé's non-black fans. Anyone who watched Lemonade understands the intended target audience of the film. However, the actual ownership of the project isn't debatable. This is Beyonce's Lemonade and she made it readily available for everyone to drink her message. A message she'll likely never accentuate with proposed intent. All I'm saying is, let it be digested. Let black women be celebrated by non-black women. The act of doing such is not "colonization," it's expanding horizons through artistic education. It bridges the divide and makes Lemonade something sweeter than we could've ever imagined. No one should ever try to sour that in the name of self-righteousness.
Beyoncé was sharing her artwork, not anyone else's, and no one truly deserves ownership of it (outside of purchasing it) but her and the long list of co-writers and co-producers she likely collaborated with. When she has yet to publicly explain the true meaning behind Lemonade, no one else should either. Unwarranted entitlement over something you did not create is egomaniacal, even if you feel it was created for you. That is all I wanted her argumentative, uncivil and totalitarian-like fanbase that approached me on Twitter to comprehend.